(JTA) — Watching a video of elected officers greeting each and every other — without masks and in shut proximity — at Supreme Court nominee Amy Coney Barrett's White Property reception created my function as a rabbi through this pandemic feel even lonelier.
As it turns out, the reception, which was speedily uncovered to be a most likely COVID-19 superspreading event, also reinforced my certainty that remaining aside is the only safe and sound preference suitable now. 
But that doesn't alter the hurt I felt as I viewed the hugging, handshaking, backslapping and mask-less laughing of the White Dwelling Supreme Courtroom nominee celebration — for myself and for the people in my neighborhood.
For the previous numerous months, for the initial time in my career, I have been not able to appropriately ease and comfort my congregants. 
From time to time, the workarounds have been surprisingly meaningful. But other situations they have been hauntingly dystopian. Like when I adopted behind a casket when keeping my Iphone so relatives and mates could see what was happening at their liked one's funeral. 
When I arrived at the desolate graveside, I fumbled with my rabbi's handbook in 1 hand even though keeping the entire local community in the other. Out of the corner of my eye, I saw a pile of grime with no one to shovel it.  
When I do a healing prayer with people, as I did this past Thursday evening for another person who is in the midst of most cancers treatment method, we commonly gather shut and hold palms. I never pretend to know what the ritual means for the particular person with whom I am praying. 
I myself am not constantly sure. 
But what is constantly communicated in the most powerful of techniques is that they are not on your own. Sickness can be disorienting and upending, and the instant we hold palms, I am channeling presence. 
Currently being sick can be lonely. Persons are torn from the movement of lifestyle, sidelined while everybody else appears to be to be moving alongside, oblivious to and unconscious of their great fortune to simply be residing their life. 
In the instant we are keeping hands there is a communal pause with this human being to say, "we are not transferring on, we are right here with you." And I could not do that Thursday night time. 
As an alternative of standing near and becoming present with their discomfort, I experienced to recite a prayer from throughout the space. 
To gradual the distribute of COVID-19 as we wait around for a vaccine and far more productive remedy, we are all sacrificing some of the most significant factors of being human: Contact and proximity with other human beings. 
Numerous are sacrificing relationship even when they desperately have to have it most: at their downsized weddings, on the internet b'nei mitzvah and virtual minyanim for shivas. I have been moved by men and women mourning desires and anticipations and embracing what is possible. Individuals have found out the blessings, but not devoid of heading as a result of the decline. 
So as I watched associates of our federal government embracing and whispering in every single other's ears devoid of masks, I was dissatisfied in the deficiency of leadership from the most strong folks in our nation.
Leadership needs being current with the individuals you provide and stating, with text and steps, "I am with you." 
This ceremony, executed otherwise, with suitable distance and masks, would have been an option to generate a unified nation. Possibly it could have paralleled times of distanced prayer for healing, transforming them from moments of seeming estrangement into transcendent acts of national and global love. 
Instead, so quite a few of us have been deserted by our leadership to labor in more lonely approaches and fight with all our creative imagination to create actual existence. 
I viewed the smiling faces of our elected officials indulge in the warmth and comfort of human link. I believed about the families in my local community who would have accomplished nearly anything to have had times like that for their celebrations and their losses. 
Assuming genuine duty these times does not sense or glance like victory. It is haunted by the feelings that we all could have done greater — and the certainty that those people in that Rose Garden must have.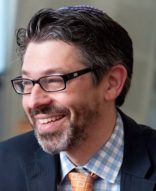 is the rabbi of Wager Torah in Mount Kisco, New York, and serves on the Executive Council of the Rabbinical Assembly, the worldwide expert business of Conservative rabbis.
The sights and views expressed in this posting are people of the creator and do not necessarily mirror the views of JTA or its mother or father firm, 70 Faces Media.